Rug Cleaning in Chicago, IL Area
Top Local Rug Cleaners. We are Expert in Cleaning Rugs, Carpet and Rug Repair Free Pick-Up and Delivery Available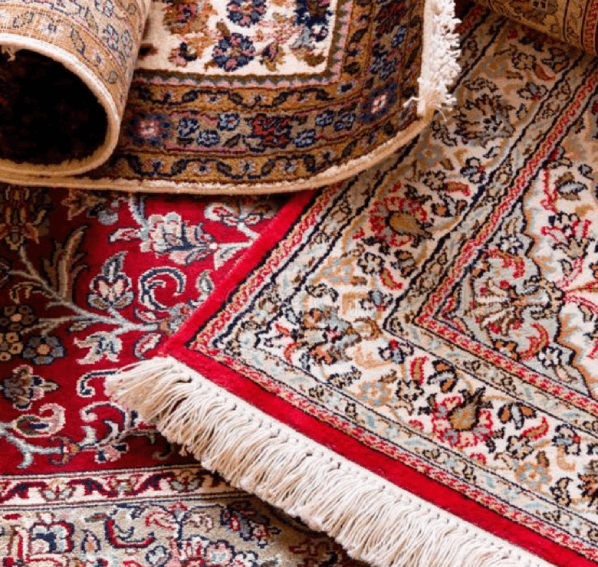 ABOUT OUR CHICAGO, IL RUG CLEANING LOCATION
We, at Rug Cleaning Chicago, specialize in  all your commercial and residential area rug cleaning needs.
Your delicate, hand-knotted, silk, antique, and Persian area rugs require the most skillful treatment to maintain their beauty. That's where our Rug Cleaning Services in Chicago come in! With 19 years of experience cleaning area rugs, we are the best area rug cleaning company in Chicago, IL. We use a specialized process that replicates centuries-old cleaning techniques to make your Oriental Rugs, wool rugs, and antique rugs look exquisite again. If your area rugs need a deep, detailed, and in-depth cleaning, contact us today!
WE UNDERSTAND THE VALUE OF YOUR RUGS
When cleaning Oriental rugs, it is important to know dyes, weave, and fibers of your area rugs. Knowing this, our experienced, skilled, and certified technicians will decide which cleaning method best suites for your specific rug. 
We combine old time cleaning methods with most advance processes to remove stains, dirt, and various odors of your area rug. 
Rug Cleaning Experts will thoroughly inspect your rug in the warehouse for any stains and any areas that need repair. 
Customized and individual care will be used for every rug.
The more delicate the rug is, the more exquisite cleaning methods needs to be applied. For super delicate rugs we use careful and skillful hand cleaning.
Rug Cleaning in Chicago uses only eco-friendly, pet and child safe products. 
Only well trained and knowledgeable  technicians can work with area rugs, since lots of skills and custom attention has to be applied in cleaning your valuable rugs. 
RUG CLEANING CHICAGO WILL REFRESH, RENEW AND REPAIR YOUR AREA RUGS
Just as your floors, your area rugs gets the same traffic, dirt, and debris. Having said that, area rugs can not be clean using the same methods as your floors or wall-to-wall carpets, because each rug differs the way it is made, what dyes have been used, what weaving method was applied. There are so many area rugs in the market: wool area rugs, synthetic area rugs, shag area rugs, antique  area rugs, leather area rugs, Persian area rugs, viscose area rugs. Each of this group needs individualized cleaning methods. If customer is trying to clean area rugs at home, the rug can get browning, can develop mildew odor, easily can be discolored. Therefore, we strongly suggest our customers not to clean the rugs at home. 

This is where Rug Cleaning Chicago can help. Our state-of-the-art equipment, multiple cleaning methods, ph balanced solutions permits us to delicately but thoroughly clean each area rug. Our deep cleaning method will safely eliminate allergens, dust, and dirt. For thorough pet urine odor removal we suggest enzyme treatment bath to neutralize pet urine acids. Additional services as mothproofing, custom pad cutting, and others are also available upon request. Our mission is not only to provide you a clean, beautiful, and vibrant rug, but to prolong the life of your rug as well.
WE DO MORE THAN JUST CLEAN RUGS
Chicago Rug Cleaning Company not only specialize in cleaning your rugs, we also offer advanced repair services: such as fringe repair, tear repair, securing the fragile ends of the rug, hand and machine binding of the side of the rugs. It is important for us to extend the life and magnificence of your rug and protect your investment. 
OUR GUARANTEE? YOUR PEACE OF MIND!
Please call us today for a free estimate. Your satisfaction is a must for us; therefore, if you feel we did not provided work to your satisfaction, we will give you your money back. Most important, our goal at Rug Cleaning Chicago is to ensure that you and your family are satisfied and happy with our services.
Frequently Asked Questions:
Have Questions?
Our Rug Experts Have the Answers.
1How often should rugs be cleaned?
The answer to this question greatly depends on the type of rug and where in a home, office or public building it's located. For rugs that experience normal wear, you should clean it every 1 to 5 years, depending on the amount of traffic it gets. For high traffic rugs or rugs in homes with pets, clean it yearly. In general, rugs in entrance ways, hallways, kitchens and bathrooms should be professionally cleaned every 1 to 2 years. Rugs in living rooms, family rooms and dining rooms can go between cleanings for 2 to 4 years. For bedrooms, most rugs only need a thorough cleaning every 5 years, and for wall hanging rugs, every 10 years.
2How long will it take to get my area rugs back?
It takes between 7 to 10 business days, depending on the rug type, condition received for processing, and the particular cleaning and treatments being done for your rug. Please plan well in advance to insure a clean rug back at home when desired for that special occasion. For your convenience, we will be happy to schedule a delivery date and time when we pick up your area rug.
3What can I do if I have a flood or water damage on my area rug?
If the rug is not dried properly and completely, the cotton foundation may become weak and rot as a result. Mold and bacteria may also thrive in such a damp environment. It is best to have the area rug professionally cleaned and dried.
4Can you remove all the urine from my area rug?
Yes, with the exception of hand tufted, glued back rugs. Refer to the video for a description of hand tufted glued back rugs. Please allow our trained service providers to first inspect the condition of the rug.
5Do you guarantee stain removal?
If a stain has not affected the fibers permanently, we have a much higher chance of removing it. Please call us at (847) 847-2004 as soon as you notice the stain since taking care of it as early as possible increases our chance of success.
6Do you guarantee pet odor removal?
Yes, with the exception of hand tufted, glued back rugs. Refer to the video for a description of hand tufted glued back rugs. Please allow our trained service providers to first inspect the condition of the rug.
7When you deliver my area rug, will you put my furniture back in its proper place?
Yes. we could include that as a service at an additional cost. Otherwise, we will deliver the rugs rolled up, and place them in a room of your choice.
8Do you charge extra for area rug stain removal?
In most cases, Rug Cleaning Chicago does not charge extra for stain removal. If the stain is stubborn and penetrates the rug's fibres, we may have to pre-spray it and work on it separately from our rug cleaning process. This is considered an additional service and will incur an additional charge. We will always alert you of all fees before any work is conducted on your valuable rug.
9Can you store my area rug after its cleaned?
Yes. We can store your rug up to 30 days free of charge. After 30 days there is a $1.00 per day per rug storage fee unless other arrangements have been made prior to acceptance.
Contact Us Today
Send your request
---
...or give us a call at
---
(224) 551-0711