We care about your investment as if it's our own!
Trust all of your area rug & carpet cleaning needs to the skillful experts.
Quality
---
Since it is a family own business, we care about the reputation it has. Therefore, we will not cut any corners.
Our Mission
---
To be the market leader and preferred name for all fine rug care, cleaning, restoration, repair and education.
Safe Cleaning
---
To keep your children, family, and pets safe, we use only safe biodegradable and eco-friendly products.
additional services
Our Rug Cleaning Services - Explore Now
We even offer some services other companies don't, like: rug appraisal, rug color restoration or storage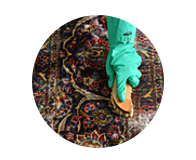 ---
ORIENTAL
RUG CLEANING
---
---
Proper cleaning of an Oriental rug is a much more involved and precise process than you may think. Whether your rug is made by hand or has been machine-loomed, the natural fibers in the rug will demand that care is taken when a cleaning is required. For those who own antique rugs, the need for expert treatment is even more important; very old rugs often have fibers that were dyed using natural vegetable dyes, which can be very susceptible to damage should the wrong cleaning treatment be used.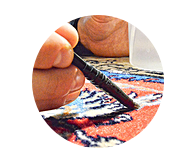 ---
RUG
RESTORATION
---
---
No matter if you need to cover some food or pet residue stains or get rid of ugly bleach spots on your area rugs, we have the skills, experience, tools, and design dyes that can produce amazing results. Get in touch with us and schedule an appointment to get a free estimate and start saving money, time, and energy while taking back your beloved rug.
---
We knows how to properly restore a rug so the new colors blend perfectly with the existing ones. Improper rug color restoration can actually devalue your rug, so make sure the color run repair team you choose is top-notch!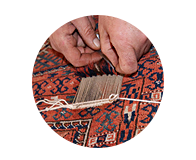 ---
ORIENTAL
RUG REPAIR
---
---
Repairing an oriental rug is more affordable than most people think. Fixing side-chords or fringes is a very common repair over the life-span of an oriental rug and can typically be completed within just a couple weeks or less. Investing in repairs not only restores the beauty, stabilizes the rug to prevent further damage, it can often restore the monetary value as well.
---
We offers repair for damage to every kind of rug caused by aging, accidents or wear and tear. We use the highest quality materials and techniques to properly match yarns, colors and patterns.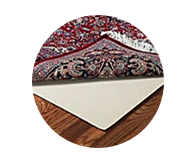 ---
CUSTOM
RUG PADS
---
---
Did you know that a rug pad will help your area rug last longer? Rug pads are designed to protect the flooring underneath your rug and to prevent you from slipping, but they also absorb some of the pressure that is placed on your rug's fibers when you walk. A pad prevents those fibers from matting and losing their luster quickly, keeping your rug looking like new for longer.
---
Your rug pad will be custom cut to the size of your rug. We'll make sure the pad is a few inches smaller than the rug to make sure it remains hidden.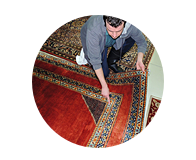 ---
RUG
APPRAISALS
---
---
We are proud to lend our experience and certification to those seeking to obtain an appraisal of their cherished Persian, Oriental, Turkish, Tribal or other wool or silk rug.
---
Our appraisers are experts at area rug and textile valuations and we offer in-person and online appraisals with an average turn-around time of 7 days. Oriental, wool, and silk rugs are a commodity, and their value is based on quality, availability, supply and demand, knot density, age and the condition of the rug. The value of rugs can go up or down in price, depending on market conditions.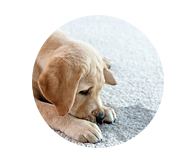 ---
RUG
ODOR REMOVAL
---
---
We understand how embarrassing smelly rugs can be! Believe it or not, most of the area rugs we get in for cleaning have some kind of pre-existing odor problem. The good news is that it doesn't matter if the odors are from pet accidents, nicotine, cooking, or just an overall "wet dog" smell. In almost all cases, we are able to tackle the problem at the source, and completely remove the odor.
---
When we immerse your rugs in lots of water, treat them with cleaning solutions designed to gently remove embedded soil and other contaminants, and make sure those solutions reach the top, underside and the inside foundation yarns of your rug, we can guarantee odor removal.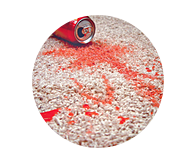 ---
RUG
PROTECTION
---
---
At the Rug Cleaning Chicago we understand that your rugs are an investment. That is why we offer rug protector to keep them safe. Rug protector helps keep stains from becoming permanent damage.
---
After cleaning the rug protector is sprayed onto the fibers of your rug creating an invisible shield that helps repel spills and keep soil from bonding. Rug protector helps reduce wear and tear increasing the life of the rug and protecting the value.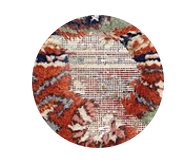 ---
RUG
MOTH TREATMENT
---
---
We offer complete moth proofing services for your Persian wool and Oriental rugs. Our thorough rug washing process will eliminate all signs of moths, beetles, and larva. A moth infestation is a catastrophe for a Persian or Oriental rug. Adult moths do no damage to your rug, but they lay hundreds of eggs that hatch into larvae and consume wool or silk fibers in mass quantities.
---
After your rug is washed and completely dry, the moth repellant solution is professionally applied.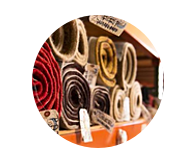 ---
ORIENTAL
RUG STORAGE
---
---
Whether you are putting the rug on a moving truck, in a storage container, or in your attic or basement for a few weeks or years we can protect your rug during its time out of use.
---
We provides safe & reliable rug storage for all types of rugs, from Persian carpets and family heirlooms to antique carpets and silk rugs. We can provide a periodic evaluation for carpets that are in storage for over a year. Our inspection process worth it and your rugs appreciate it. We'll unwrap, unroll, vacuum, and re-roll your rugs every quarter or so to be extra sure they are in good shape.
About Us
---
We offers you a variety of high quality area rug cleaning services. We are a family owned business. All our technicians are experts in cleaning Oriental, Chinese, Persian, Turkish, Indian, Karastan, antique, wool, synthetic, shag, viscose rugs, and other. Throughout the years we learned the skills and secrets of professional oriental and area rug cleaning.
---
Therefore, our team members would like to use this obtained knowledge, the modern equipment, and earth friendly solutions to meet the demanding standards of our clients.
---
We take pride in delivering the top notch rug cleaning service possible.
---
(224) 551-0711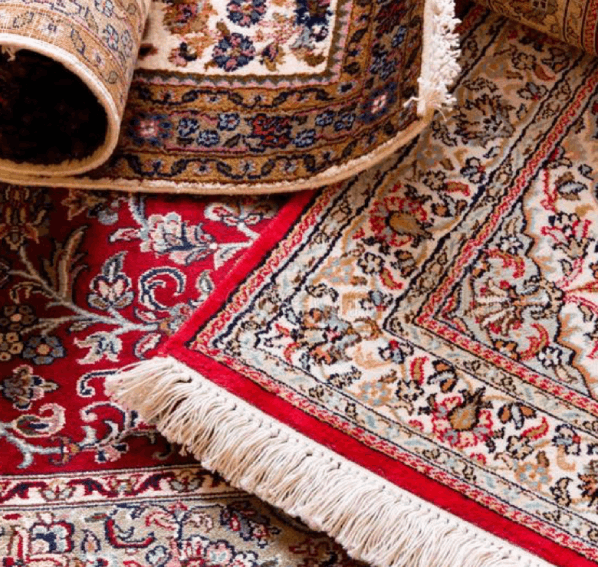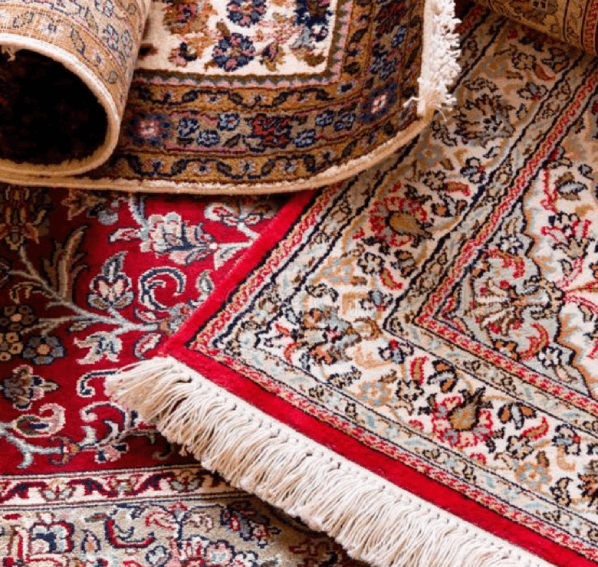 how we clean...
RUG CLEANING PROCESS
Dusting
The RugBadger is a powerful, portable machine designed to deliver 40.000+ penetrating harmonic vibrations/min deep into the back of a rug. It shakes loose any dry, heavy, damaging soil & sediments trapped both in the foundation and in between the rug fibers themselves.
---
Submersion Wash
In the weaving capitals of the world, handmade rugs are washed by submerging them for several hours in flowing rivers. The Submersion Hand Wash step simulates this age-old process, enabling all foreign matter to be purged from a rug. Using a continuous flow of water, combined with a mild, ph-neutral cleansing agent massaged deep into the fiber, further removes a rug's contaminants and keeps them settling into a rug again. While the rugs are submerged, three compressions rollers purge or "squeeze" all remaining contaminants. Rugs with particularly stubborn contaminants, such as pet urine, are submerged for an extended period to GUARANTEE their complete removal. We use small, medium and large sized compression rollers to ensure all contaminants are removed from the rugs before the proceed to the rinse & spin stage..
---
Extract, Rinse & Spin
The third step in the system, Rinse, rinses all cleaning solutions from the rugs using compressed air and specially designed tools to create an underwater, vigorous rinse. In addition to purging cleaning solvents from the rug, Rinse lifts and adds body to the rug fibers. Following the Rinse, the rug is hoisted from the Wash Pit and soft water-rinsed a second time before being moved to the Rug Centrifuge.
---
Controlled Drying
Achieving a fast and efficient drying method is critical, as rugs can be mold and mildew if saturated for long periods of time. Controlled Drying takes place in a heated Dry Room using a combination of air circulation, dehumidifying processes and heat. Here, rugs are allowed to dry for 6-12 hours.
---
Post Detailing
Post Detailing involves cleaning and restoring all fringes using specially designed tool. During this last step, all rugs are brushed and inspected for any remaining stains.
(224) 551-0711
frequently asked questions:
You Got Questions?
Our Rug Experts Got the Answers.
1How Often Should Rugs Be Cleaned?
The answer to this question greatly depends on the type of rug and where in a home, office or public building it's located. For rugs that experience normal wear, you should clean it every 1 to 5 years, depending on the amount of traffic it gets. For high traffic rugs or rugs in homes with pets, clean it yearly. In general, rugs in entrance ways, hallways, kitchens and bathrooms should be professionally cleaned every 1 to 2 years. Rugs in living rooms, family rooms and dining rooms can go between cleanings for 2 to 4 years. For bedrooms, most rugs only need a thorough cleaning every 5 years, and for wall hanging rugs, every 10 years.
2How long will it take to get my area rugs back?
It takes between 7 to 10 business days, depending on the rug type, condition received for processing, and the particular cleaning and treatments being done for your rug. Please plan well in advance to insure a clean rug back at home when desired for that special occasion. For your convenience, we will be happy to schedule a delivery date and time when we pick up your area rug.
3What can I do if I have a flood or water damage on my area rug?
If the rug is not dried properly and completely, the cotton foundation may become weak and rot as a result. Mold and bacteria may also thrive in such a damp environment. It is best to have the area rug professionally cleaned and dried.
4Can you remove all the urine from my area rug?
Yes, with the exception of hand tufted, glued back rugs. Refer to the video for a description of hand tufted glued back rugs. Please allow our trained service providers to first inspect the condition of the rug.
5Do you guarantee stain removal?
If a stain has not affected the fibers permanently, we have a much higher chance of removing it. Please call us at (847) 847-2004 as soon as you notice the stain since taking care of it as early as possible increases our chance of success.
6Do you guarantee pet odor removal?
Yes, with the exception of hand tufted, glued back rugs. Refer to the video for a description of hand tufted glued back rugs. Please allow our trained service providers to first inspect the condition of the rug.
7When you deliver my area rug, will you put my furniture back in its proper place?
Yes. we could include that as a service at an additional cost. Otherwise, we will deliver the rugs rolled up, and place them in a room of your choice.
8Do you charge extra for area rug stain removal?
In most cases, Rug Cleaning Chicago does not charge extra for stain removal. If the stain is stubborn and penetrates the rug's fibres, we may have to pre-spray it and work on it separately from our rug cleaning process. This is considered an additional service and will incur an additional charge. We will always alert you of all fees before any work is conducted on your valuable rug.
9Can you store my area rug after its cleaned?
Yes. We can store your rug up to 30 days free of charge. After 30 days there is a $1.00 per day per rug storage fee unless other arrangements have been made prior to acceptance.
contact us today
Send your request
---
...or give us a call at
---
(224) 551-0711